Statutory Minimum Wage 2023
The statutory minimum wage (WML) is the minimum wage that you must pay to employees. The minimum wage is adjusted twice a year, on January 1 and July 1.
The minimum wage applies to all employees aged 21 and older. There is a minimum youth wage for employees aged 15 to 20. This youth wage is a percentage per age, linked to the minimum wage for adults.
In January 2023, the minimum wage will increase by 10,15%. The government wants to make work more rewarding with the increase.
The government is therefore implementing an additional increase of 8.05% on top of the six-monthly adjustment for the first time since its introduction in 1969. The minimum wage will therefore increase on 1 January 2023 for full-time employment (40 hours per week) from € 1,756.20 to € 1,934.40 gross per month. See the tables converted to hourly wages below. The calculation depends on the full-time concept within the company: is that 36 hours, 38 hours or 40 hours? Converted, this is the minimum hourly wage per age: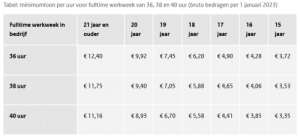 When is the minimum wage higher?
The statutory minimum wage is the basis for all employees in the Netherlands. Still, there may be higher minimum wages for certain occupations. This depends on the collective labor agreement for your sector. For example, different minimum wages apply in the hospitality industry than in cleaning. See below for the various CLA updates.
Change in tax-free mileage allowance as of 2023
From 1 January 2023, the government wants to increase the tax-free kilometer allowance for travel expenses from €0.19 to €0.21 per kilometre. And from 1 January 2024 to € 0.22 per kilometer.
Employers do not have to increase the travel allowance.
Due to the higher prices for driving and public transport (public transport), employees have more travel costs. Employers can reimburse their employees tax-free travel expenses. The tax-free allowance will therefore increase. When traveling by public transport, the employer can also reimburse the full travel costs tax-free. 
Collective agreement updates